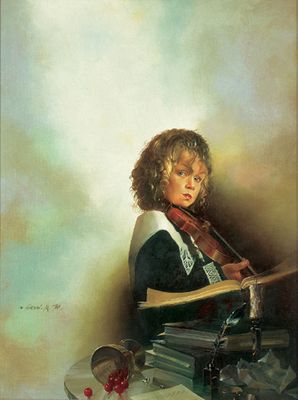 Michael Gorban Handsigned and Numbered Limited Edition Canvas Giclee:"Violin Concerto"
Artist: Michael Gorban
Title: Violin Concerto
Image Size: 27" x 20"
Edition:Artist Hand Signed and Numbered Limited Edition
Medium: Fine Art Giclee on Canvas
About the Artist: Michael Gorban was born in 1956 in the former Soviet Union. In 1976, Gorban graduated from the Kishinev Higher School for the Painting Arts in Moldavia and in 1982, he graduated from the Academy for Painting in the city of Lvov, majoring in graphics. Gorban received a grant in 1988-1990 from the Artist's Association of the Soviet Union, and he emigrated to Israel with his family in 1990. It is doubtful whether any other artist studied art for 21 years before displaying his paintings on the market. Michael Gorban completed his studies at age 30, with a record behind him of working closely with the finest of Russian artists, and using dozens of painting techniques. At age 30, Gorban received the honor of exhibiting his paintings at an international exhibition beside the likes of Salvador Dalí, Kandinsky, Chagall, and others, in the Hermitage museum in Leningrad. A third of Gorban's paintings hung in the Hermitage, one of the world's largest and most prestigious museums, for more than a year. Gorban managed to receive a 140 square meter studio in Moscow from the government. In the national album of Russian art history, Gorban is prominently featured with three of his paintings as one of the young artists to impact the 20th century between 1960 and 1980.

"Painting is a sensual experience," claims Gorban today from his studio in Petach Tikva, near Tel Aviv. "I will not sign my name until I am completely satisfied." Concerning the subtle difference between an artist and a painter, he adds, "An artist can hear what the painting wants; a painter cannot. I never painted under duress or according to order. My success comes from people feeling the same satisfaction that I myself felt upon completing the painting."

In 1990, Gorban decided to emigrate to Israel. The fact of his Jewishness had been repressed for years and was unknown to most people. Yet, feeling a special warmth for Israel, Gorban resolved to leave everything behind - the exhibitions, the recognition, the spacious Moscow studio, the summer cottage on the Black Sea - and make the move to Israel. Michael Gorban's paintings are now displayed in galleries and museums throughout the Soviet Union, as well as private collections in the United States, Canada, England, Japan, Belgium, France, Germany, Australia and Israel. His name has returned to the headlines, not as a leading Russian artist, but as a first-rate Israeli artist.
Video Not Avaibale.