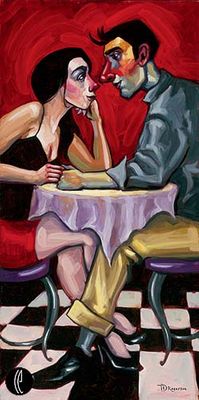 Tim Rogerson Handsigned and Numbered Embellished Giclee on Canvas:"Love Is In The Air"
Artist: Tim Rogerson
Title: Love Is In The Air
Image Size: 36" x 18"
Edition: Artist Hand Signed and Numbered Limited Edition to 195
Medium: Fine Art Giclee on Canvas
About the Artist: As an emerging, prolific artist with his own inimitable style, Tim Rogerson casts his artwork with a very evident energy and passion. Inspired by the works of Edgar Degas and Malcolm Liepke, the North Carolina native has embarked on an artistic journey that has taken him from Degas to Disney.

Born in Kissimmee , Florida , Rogerson grew up as a child who lived the everyday life of a kid, playing outside and ?hanging out" with friends, however, the artistic urge to create was always present, compelling him to apply the pictures and images in his head to paper and canvas.

Moving from North Carolina back to Florida , Rogerson was accepted as a student at the prestigious Ringling School of Art and Design in Sarasota , majoring in Illustration. "I was a very traditional art student and explored all the works from the old masters to modern art," says Rogerson. ?My influences include Degas and John Singer Sargent, with his perfect, confident brushstrokes. . . their work has allowed me to push the envelope with my own abstraction of life."

Using the medium of oil paints, Rogerson concentrates on capturing people in social settings. "My personal style has emerged and I break down the composition into simple shapes, with each shape having its own palette - it's a jigsaw puzzle of color to form an image," states Rogerson. "I keep the backgrounds simple so as not detract from the main focus and so I can concentrate on the details of the central image."

While studying at the Ringling School, Rogerson gained the reputation as a rising artist and influence in his own right. His unique style was recognized when he was awarded the 2003 Best Painter Award from Ringling, followed by 2003 and 2004 Best of Ringling Award. One of his recognized works was an emotionally powerful portrait of "Mr. Lincoln."

After graduating from Ringling in 2004, Rogerson has embarked on a career as a professional artist. He has contributed his artistic abilities to Disney and SS Designs in Florida and is currently engaged in creating imaginative imagery for the popular Disney Fine Art portfolio, published by Collectors Editions Fine Art Publishers of California.

"My work will always evolve, becoming more complex and detailed," says Rogerson. "I want my paintings to celebrate life and stay fresh . . . I try to stay away from the basic routine and technique because my joy for painting comes from the challenge of creating something entirely new."
Video Not Avaibale.