Bruce Ricker Handsigned & Numbered Limited Edition Serigraph:"Mountain Meadows "
Artist:Bruce Ricker
TitleMountain Meadows
Edition::Limited Edition Serigraph S/N Paper (As Shown) and Canvas (Select Below)
Size: Paper size: 38.5 x 32 inches, Image size: 35 x 29 inches.
About the Artist: "The painter has a language which translates meaning to the viewer beyond that which the viewer's experience can give." - Bruce RickerBruce Ricker redefines landscape art using a style that he calls epic visionary. A formal education in art and architecture combines with a lucid imagination to result in the unique Ricker style.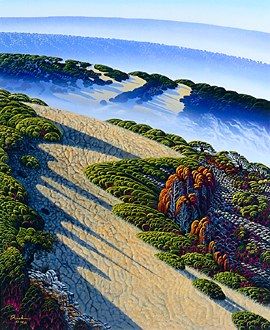 Paper and Canvas Options
Serigraph on Paper (as shown)
Serigraph on Canvas, add (+$500)

Video Not Avaibale.