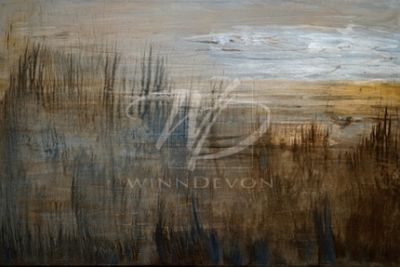 Jennifer Perlmutter Limited Edition Hand-Embellished Giclee on Canvas:"Coastal I"
Artist: Jennifer Perlmutter
Title: Coastal I
Size: 16" x 24" - Select additional sizes options above
Edition: Artist Signed and Numbered, Limited to 495
Medium: Hand Embellished Giclee on Canvas - Watermark applied on above image for protection of copyright.
About the Artist: Jennifer Perlmutter's education began with watercolors, the layering of washes and finding forms within. She studied woodworking, growing acutely aware of detail and the importance of tactile quality. Perlmutter then apprenticed with a fine/decorative artist, combining art and gilding for high-end furniture and accessories. She further developed her skills as the founder of Perlmutter Designs, creating sophisticated furniture and finishes with artwork and gilding. This varied experience and knowledge informs her fine art today. She is now wholly devoted to creating fine art.

Collectors of her work include: Eddie Murphy, Ted Danson & Mary Steenburgen and Chris Webber. Perlmutter's art has appeared in films and television, including Matchstick Men, Haunted House, Six Feet Under, The O.C., Just Shoot Me, and It's All Relative.
Canvas Giclee Size Options
No thank you, I just want the 16 x 24 Canvas (As Shown)
24 x 36 Canvas, add (+$220)
30 x 45 Canvas, add (+$475)
40 x 60 Canvas, add (+$975)

Video Not Avaibale.