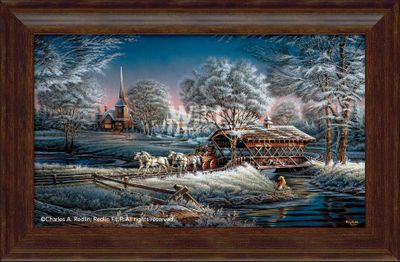 Terry Redlin Framed Encore Canvas: "Morning Frost"
Artist: Terry Redlin
Title: Morning Frost
Edition: Open Edition
Size: 23.25"H X 33.25"W
About The Art: "The heavy frost glistens in the morning light. Winter is in the air. The icy coating is a precursor to the snow that will soon blanket the surroundings. As the horse-drawn wagon and its passengers leave the church and cross the covered bridge, only the dog knows the young boy is hiding there. As he crouches out of sight of the grown-ups, he is praying that he will not be discovered. He knows that with one bark, his secret will be revealed. "

Video Not Avaibale.