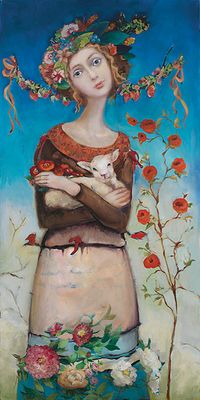 Cassandra Barney Open Edition Canvas Giclee:"Comfort"
Artist: Cassandra Barney
Title: Comfort
Size: 18" x 36" and 24" x 36"
Edition: Artist Signed and Numbered, Limited Edition to 75. COA included.
Release Date: 11/2011
About The Art : "Some paintings just flow off the end of your brush, others evolve over time. Comfort was one that took a while," Cassandra Barney explains. "My husband said that every time I worked on it I would repaint the whole thing and lose what was a beautiful painting in the process. I think that happens sometimes. You have to be willing to give up on something that is not quite there in the process of finding something better. The layers of color and luscious texture the painting has taken on are a result of that repainting process."

"That approach also gave the painting the time to evolve into a more pertinent reflection of the feeling I wanted to express about motherhood. We all want to be a source of strength when it comes to caring for and protecting our children and at the same time we have that time need to be loved and protected as well. It's about giving comfort and the comfort you receive in return. In providing comfort to my little lambs, I receive the same in return."


Canvas Size Option
18 x 36 inches (as shown)
24 x 36 inches Unstretched, add (+$85)

Video Not Avaibale.