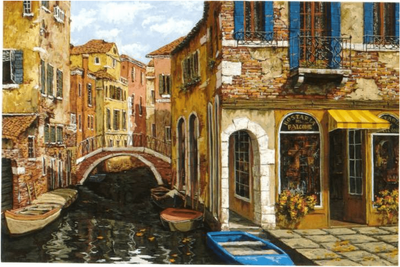 Viktor Shvaiko Artist Signed Limited Edition Serigraph on paper:"Autumn In Venice - Paper"
Artist:
Viktor Shvaiko
Title:
Autumn In Venice
Size:
32" x 48"
Edition:
Artist Signed and Numbered Limited Edition
Medium:
Serigraph on paper
About the Artist:
Viktor Shvaiko was born in one of Russiaęs most remote towns, Altai, and grew up surrounded by the wilderness. His natural ability for the arts and his strong vision of nature propelled him to enroll at Novoaltaisk Artistic School. After four years of a strict drawing regiment and intricate techniques of color use, Viktor acquired the technical excellence of a true artist. Viktor then focused his attention in capturing the beauty of Altaięs landscapes and Transkarpathiaęs mountainous countryside. Shvaiko was able to obtain passage from Russia to the United States. Arriving in New York, Viktor developed a fondness of painting cafes and other intimate spaces that has become his trademark. Viktor Shvaiko paints beautiful paintings, however, it is apparent to the viewer that these meticulous paintings reach us at an emotional level. His colors are applied layer on top of layer from both a subtle and complex palette, while his glazes instill each image with a sense of luminosity and depth.
Video Not Avaibale.