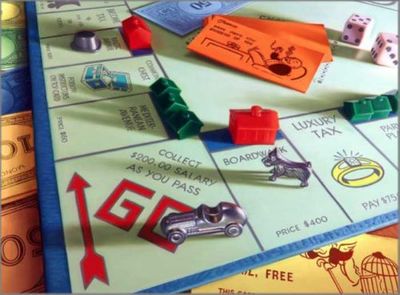 Doug Bloodworth limited edition giclée on canvas:"Bank Pays You Dividend"
Artist:Doug Bloodworth
Title:Bank Pays You Dividend
Size (H x W):28 x 35
Edition:160 numbered and hand signed by the artist
Medium:limited edition giclée on canvas
About the Art:I love what I paint, and in fact, I have to have a personal attachment to whatever it is that I am painting, or I don't feel like I could do it. And I think that is true of any artist. I think you have to understand whatever it is you're painting, and have a personal attachment to it. You can't just paint something because you think it might sell."
Check out the ridge where the board folds. Check out the fold on the Community Chest card. They're uncanny. Check out the shadows from the houses and hotels. Check out the intracacies in the Monopoly money. - DB
These are not photos. They are limited edition reproductions on canvas of original oil paintings by Doug Bloodworth.
DOUG BLOODWORTH enjoys evoking the viewer's nostalgic feelings of one's childhood, be that in comic books, games we played, or our comfort foods.
In 1974 Doug earned a degree in Commercial Arts and went on during the early stages of his career to work in several genres of the art world. From painting caricatures to billboards, Doug's pursuits steered him towards the mastery of fine art techniques and a working mentorship with Marv Gunderson, the exclusive artist for the Marlboro brand. Painting iconic works on billboards all over the country was a highlight early on in his career and he still draws from the inspiration and lessons learned during the tour.
Doug has since been commissioned to paint two 30' x 200' murals at Tampa's Tropicana Field, a project which took six months to complete and inspired him to focus solely on painting fine art pieces.
The influence of paper printed comics from eras past is still tangible in Doug Bloodworth's photorealism. Combined with decades of artistic technique and the personal connection offered by his custom works, Doug's collectability is rapidly growing. He is now recognized in the international art community as one of the premiere photorealist painters of this period.
Video Not Avaibale.