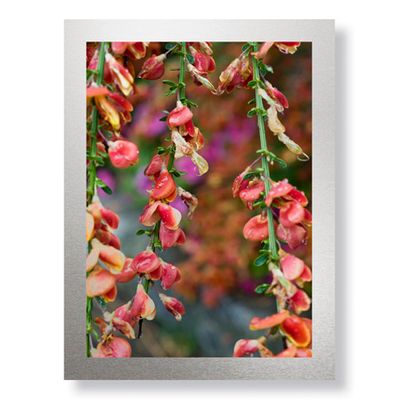 Stacy Bass Limited Edition Ready to Hang Giclee on Brushed Aluminum: "Fire Bush"
Artist: Stacy Bass
Title: Fire Bush
Size: 32" x 24" (As Shown ) and 46" x 36" Select additional sizes options above from Drop Down Box
Edition Size: Each edition is limited to 25 with certificates of authenticity hand signed by the artist
Medium: Giclee on Brushed Aluminum
About Luxe Editions: Limited edition fine art printed directly on unique substrates with luminous color and fine detail. Luxe Editions are innovative works of art that break the traditional barriers of fine art prints. Each artist has specifically developed imagery suitable for alternative substrates and materials. This technologically advanced printing process is able to achieve astounding detail, continuous tone and an amazing range of colors. The inks are also 'green' and have minimal VOC's (volatile organic compounds)
About the Art: A political science/photojournalism major from Barnard College, Columbia University, Stacy Bass began to focus on Fine Art and Commercial Photography in college, and then studied at the Maine Photographic Workshops with masters Jay Maisel, Joe Baraban, William Albert Allard and others. From her first solo exhibition in 1988, her fine art work has become part of numerous private, corporate and hotel collections and her images and unique perspectives continue to tap into the emotion and sensibility of a wide spectrum of viewers Always with an eye and an interest in all things visual, her career ambitions have taken her through numerous magazine positions, including a senior position at fine art photography start-up: On Seeing. Stacy is also a graduate of NYU School of Law where she concentrated on Copyright, Trademark, Art and Entertainment law and later used her expertise to become vice president of a publicly traded motion picture and television company. Stacy's passion for capturing light, color and the essence of a place, event or feeling manifests itself in her images. In February 2007, she mounted a solo show of her garden and botanical images called First Light, at Gallerie Je Reviens in Westport, CT. This sold out show was also a fund-raiser for the Discovery Museum in Bridgeport, CT. Stacy followed this show with a solo show of her personal work called Speak, Memory, which was mounted at Amy Simon Fine Art. Stacy continues to pursue challenging commercial assignments from major specialty and lifestyle publications in addition to her successful fine art career. Her editorial work has appeared in: athome, Westport Magazine, Greenwich Magazine, Garden Design, Horticulture, House Beautiful, California Homes, Luxe Interiors + Design and Consumer Reports among others.
Size Options
No thank you, I just want the 32x24 (As Shown)
46x36, add (+$590)

Video Not Avaibale.