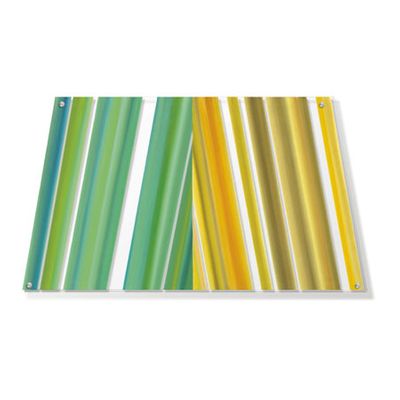 Louis Vega Trevino Limited Edition Ready to Hang Giclee on Clear Acrylic: "Infiniti Color IV"
Artist: Louis Vega Trevino
Title: Infiniti Color IV
Size: 18" x 32" (As Shown ) and 24" X 46" Select additional sizes options above.
Edition Size: Each edition is limited to 25 with certificates of authenticity hand signed by the artist.
Medium: Giclee on Clear Acrylic
About Luxe Editions: Limited edition fine art printed directly on unique substrates with luminous color and fine detail. Luxe Editions are innovative works of art that break the traditional barriers of fine art prints. Each artist has specifically developed imagery suitable for alternative substrates and materials. This technologically advanced printing process is able to achieve astounding detail, continuous tone and an amazing range of colors. The inks are also 'green' and have minimal VOC's (volatile organic compounds).
About the Artist:Louis Vega Trevino's painting reflects a deep understanding of historical precedents. Without any derivative step, he has built upon a number of important, painterly languages to evolve a style that is instantly recognizable as uniquely his own. Trevino's painting recalls not only the atmospheric color fields of Mark Rothko and Julies Olitski, but also that indeterminate margin where color field interests merge with the geometric and optical abstraction of Gene Davis and Richard Anuszkiewicz. It is in that margin that Trevino's work finds its form, an area once explored by Morris Louis and which Trevino's color-charged compositions have revived and redefined.
Size Options
No thank you, I just want the 18x32 (As Shown)
24x46, add (+$520)

Video Not Avaibale.