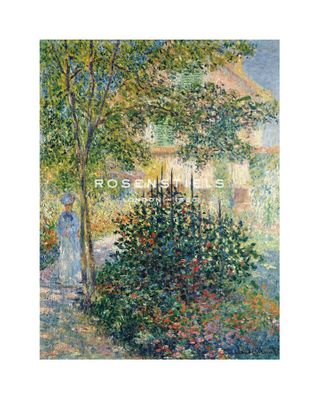 Claude Monet Hand Numbered Limited Edition Print on Paper :"Camille Monet in the Garden at Argenteuil, 1876"
Artist:
Claude Monet
Title:
Camille Monet in the Garden at Argenteuil, 1876
Dimensions (W x H ):
Paper Size: 16 x 20 in | Image Size: 12 x 16 in
Edition | Medium:
Each print is hand numbered, accompanied by a certificate signed by the Master Printer and is numbered to match the print. The editions are limited to 1880 copies. |
This Gouttelette print on paper is published with light-fast inks to BS1006 Standard onto acid-free calcium carbonate buffered stock, mould-made from 100% cotton and sourced from environmentally conscious paper suppliers. This product is exclusive to Rosenstiels.
About the Art:
Superior Edition
About the Artist:
Monet was born in Paris in 1840 but his family settled in Le Havre shortly afterwards. It was in Le Havre that Monet developed a love of drawing and where he became established as an artist.
Monet met Boudin and Pissarro before completing a year's military service in 1861. He was incredibly fortunate that his father recognised his artistic talents, brought him out of the army and sent him to study in Paris. Four years later he held his first exhibition at the Paris Salon. Monet also met Renoir, Bazille and Sisley, and established a friendship with Manet.
The 1870s saw a period of peaceful home life with his wife and children whilst Monet contributed to the first Impressionist exhibition. This tranquillity was shattered by his wife Camille Doncieux's death in 1879. Monet then spent the next decade travelling and painting and by the 1890s he had settled in Giverny. Monet had also begun the construction of a water garden near his house.
The turn of the century saw the famous Lily Pond and the Water Lily series exhibited.
Video Not Avaibale.