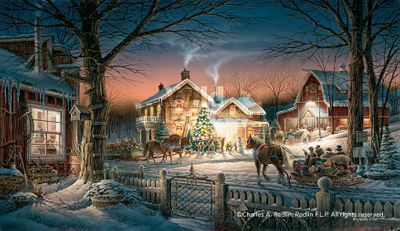 Terry Redlin Artist Proof Print: "Trimming the Tree"
Artist: Terry Redlin
Title: Trimming the Tree
Edition: Artist Proof
Size: 18.5"H X 32"W
About The Art: "In this festive holiday scene, we can almost feel the crisp winter air, hear the children's gleeful shouts, and share in the excited anticipation of arriving visitors. Off to the left, a cat in the lighted window ignores the action outside-she has her eye on a rabbit hiding in the shadows."

Video Not Avaibale.