Harold Harvey Hand Numbered Limited Edition Print on Paper :"Pioneers of Aerial Navigation"
Artist:
Harold Harvey
Title:
Pioneers of Aerial Navigation
Dimensions (W x H ):
Paper Size: 22 x 24 in | Image Size: 18 x 20 in
Edition | Medium:
Each print is hand numbered, accompanied by a certificate signed by the Master Printer and is numbered to match the print. The editions are limited to 1880 copies. |
This Gouttelette print on paper is published with light-fast inks to BS1006 Standard onto acid-free calcium carbonate buffered stock, mould-made from 100% cotton and sourced from environmentally conscious paper suppliers. This product is exclusive to Rosenstiels.
About the Art:
Superior Edition
About the Artist:
Harold Charles Francis Harvey was born to Mary Bellringer Harvey and Francis McFarland Harvey on 20 May 1874 in Penzance. His father was a bank clerk. During his youth he was home schooled.
From 1894 to 1896, he studied art at the Academie Julian in Paris under Norman Garstin. In 1896 he studied at both the Académie Delecluse and the Academie Colarossi. After completing his schooling in Paris, Harvey returned to Penzance. His works included landscapes and life settings of his native Cornwall, religious themes and interiors. He used oil and watercolour paints.
From 1909 to 1913 he was an Associate of the Royal Cambrian Academy, Conwy and in 1910 he was a member of the South Wales Art Society. From about 1910 and into the early 1930s he was a member of the Newlyn Society of Artists, particularly with artists from the Lamorna valley
In 1911 Harvey married fellow artist Gertrude Bodinnar. They first met when Gertrude posed for Harvey. She discovered that she had artistic talent and became an artist in her own right in a wide range of visual and textile arts. The married couple lived in Newlyan at Maen Cottage. Friends of the Harveys included Laura Knight, Harold Knight, Annie Walke and Father Bernard Walke of St Hilary Church.
Late in his life he converted to Catholicism. He died in Newlyn on 19 May 1941 and was buried in Penzance at the Heamoor Cemetery.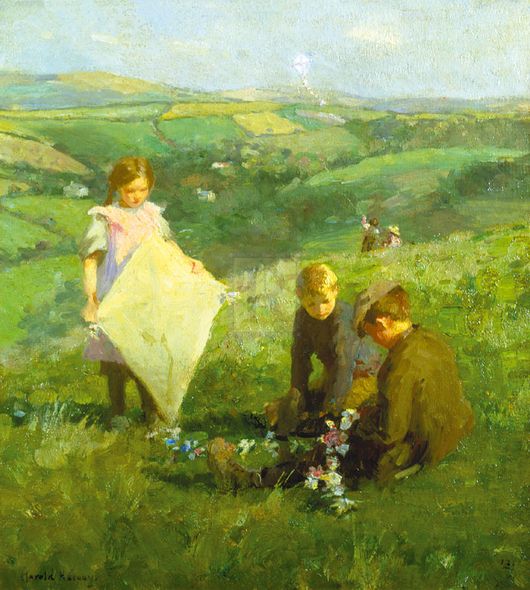 Video Not Avaibale.