Theodore Wores Hand Numbered Limited Edition Print on Paper :"Lotus Pond, Shiba, Tokyo, c.1886"
Artist:
Theodore Wores
Title:
Lotus Pond, Shiba, Tokyo, c.1886
Dimensions (W x H ):
Paper Size: 28 x 22 in | Image Size: 24 x 18 in
Edition | Medium:
Each print is hand numbered, accompanied by a certificate signed by the Master Printer and is numbered to match the print. The editions are limited to 1880 copies. |
This Gouttelette print on paper is published with light-fast inks to BS1006 Standard onto acid-free calcium carbonate buffered stock, mould-made from 100% cotton and sourced from environmentally conscious paper suppliers. This product is exclusive to Rosenstiels.
About the Art:
Superior Edition
About the Artist:
Theodore Wores was born in San Francisco. He began his art training at the age of twelve under the supervision of Joseph Harrington, an Irish-American artist who had
studied in Rome. At the age of fifteen Wores became one of the first students to enroll in the newly-opened San Francisco School of Design. After studying there with landscape artist Virgil Macey Williams, Wores traveled to Munich where he became a student at the Royal Academy for a period of six years. During this period he travelled with the "Duveneck Boys" a group of young artists who followed Frank Duveneck, an American painter living in Munich, on expeditions to Paris, Rome, Florence and Venice.
After returning to San Francisco in 1882, Wores made two extended visits to Meiji, Japan. These sojourns were followed by exhibits of his Japanese-influenced works in New York and London. Wores mixed with important literary and artistic figures in London, and became acquainted with both the expatriate American painter James Abbot McNeill Whistler and Oscar Wilde. His palette increasingly favored Impressionist color schemes.
The rise of modern art dismayed Wores, who had a commitment to traditional artistic skills. Wore's late works, mainly landscapes of California, are considered among his finest works, but they received little attention during the artist's lifetime due to the fact that his style had fallen out of fashion.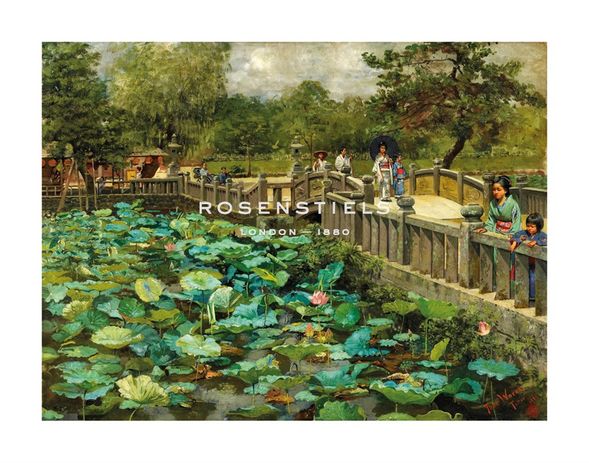 Video Not Avaibale.